Dundee United Junior Academy: Brand New for 2018/2019
Launched in May 2018, the new Junior Academy aims to work more closely with the Dundee United Professional Academy in giving players with high potential the chance to progress. The New "Academy" replaces the old J League and Young Tangerines sessions with a brand new curriculum being developed as well as an aim to forge links with the local grassroots boys and girls clubs in the area.
New Football Pathway 2018/2019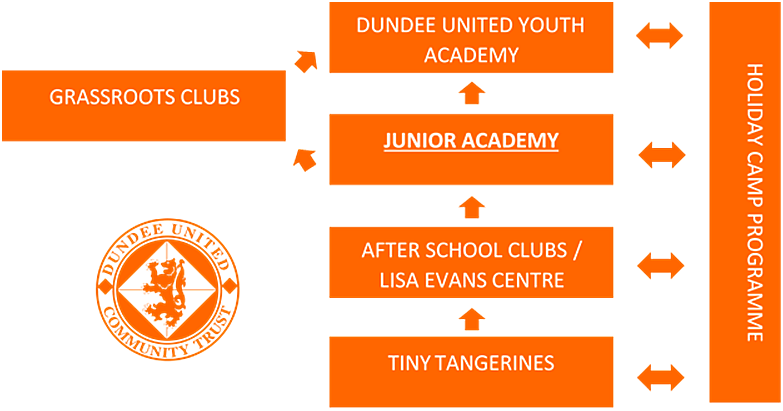 Our New Curriculum:
Our new Junior Academy Curriculum is themed along the same principles as the Dundee United Youth Academy. The skills we teach are important for all footballers – regardless of ability – and for those with potential to progress into academy football. We provide an environment that prepares them where creativity and flair are encouraged. Beyond football, we teach the importance of decision making and communication as well as building confidence – all of which are transferable skills which are useful in other areas of life.
Technical Ability: Comfort on the ball, using both feet
Athleticism: Speed, power, agility, reactions, quickness and strength
Nature: A determination to be better every time
Never give up: Success is going from failure to failure without losing enthusiasm
Awareness: Recognise time and space as well as movements of team mates and opponents
Decisions: Players find their own way with a freedom to make mistakes
Imagination: Players are given responsibility to make their own choices
Creativity: Encouraged to find their own solutions. Can they see a pass no-one else does?
Energy: Always give their best and play with full effort
The above shows what TANNADICE means for us and our new curriculum aims to develop players that learn to love the game through these principles.
What's Included
As well as a training environment which is second to none, we also aim to provide fantastic value for money. Junior Academy membership includes the following benefits:
Dundee United Community Trust training kit: Top, shorts and socks
Tour of Tannadice
High quality coaching from Scottish FA qualified end highly experienced coaches
Chance to play on the pitch at a Dundee United FC Home Match in 2018/2019 season
Player of the week awards throughout the season
Second family member = ½ price
Membership Costs
Membership Structure: In June 2017, we moved to an annual membership structure which is paid monthly over 12 months. This allows us to spread the cost of kit – which is included – and the coaching sessions across the full year and make the sessions more affordable for families in Dundee. Based on feedback received, our membership options for 2018/2019 are summarised below: