Published: 16th January 2021
Dundee United played out a frustrating 0-0 draw away to Hamilton Accies in wintry Lanarkshire.
Mounds of cleared snow encircled the pitch, and a bitter wind blew in rain from the west stadium as the sides prepared to tussle for the third time this season. United held a narrow aggregate 3-2 advantage over their Lanarkshire opponents, with Nicky Clark's double at Tannadice earning the win in November. The last time these teams faced each other at the FOYS stadium, it was a very entertaining encounter, with Our Academy Graduate Logan Chalmers in particular providing the thrills.
Our Academy Graduates were again a conspicuous presence. Appéré, Neilson and Robson all retained their starting places as Micky Mellon named an unchanged starting XI from Tuesday evening's game against St Johnstone.
As with the high-octane midweek tie, United asserted themselves through technical midfielders Harkes and Powers, who strove to find their way forward through links and layoffs. Hamilton Accies looked to chew up, rough up and interrupt every bit of midfield possession United built. Compounded with the challenging conditions, United struggled to impose themselves.
The outstanding chance of the first half fell to the purple-clad Terrors. Liam Smith, the right-sided workhorse who just signed a contract extension, crossed a beautiful ball in to the box where both Clark and Harkes were waiting. It was the young American who won the header. Harkes did everything right, bulleting the ball into the heart of the Accies goal. He was frustrated by an excellent save from Fulton.
Hamilton finished the first half the stronger side. They produced pressure and earned several set piece opportunities, without threatening the United goal or overly taxing Siegrist. The Accies did threaten to score when Callachan played in Smith, but the young striker skelped it well over the bar.
The equilibrium returned after the break, with United and Hamilton exchanging half chances. Clark struck for United straight into the clutches of Fulton. Hamilton worked their own effort from the edge of the box shortly after, with an Odoffin strike being touched wide by Siegrist.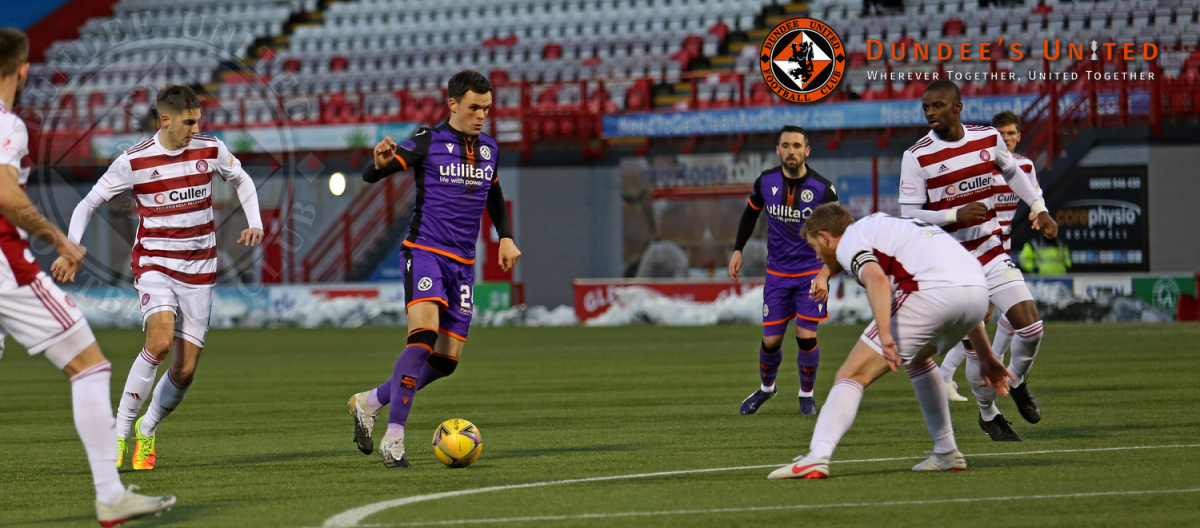 Please click here or on the image to view our Flickr Gallery.
Mark McNulty was introduced to add impetus, replacing Appéré at the top end of the park. With three roving strikers, United certainly had moments of bite. A neat interplay between Harkes and Shankland gave the striker a chance to hammer a strike towards the bottom left corner of the Accies goal. The ball was wide by the width of a post.
As time ran down, the Terrors won a clutch of corners and free kicks, but were unable to convert any of the chances. The game ended scoreless, marking a second draw against Hamilton and a tenth overall in the league this season for United.
DUNDEE UNITED: Siegrist, Neilson (AG), Connolly, Reynolds, Smith, Clark, Harkes, Powers, Robson (AG), Shankland, Appéré (AG) SUBS: Mehmet (GK), Spörle, Pawlett, Fotheringham (AG), Watson (AG), Hutchinson (AG), Smith (AG), Bolton, McNulty
HAMILTON: Fulton, Martin, Easton, Hodson, Odoffin, Stirling, McCann, Calachan, Smith, Moyo. SUBS: Ogkmpoe, Trafford, Stanger, Mimnaugh, Winter, Munro, Gourlay, Owolabi, Johnson