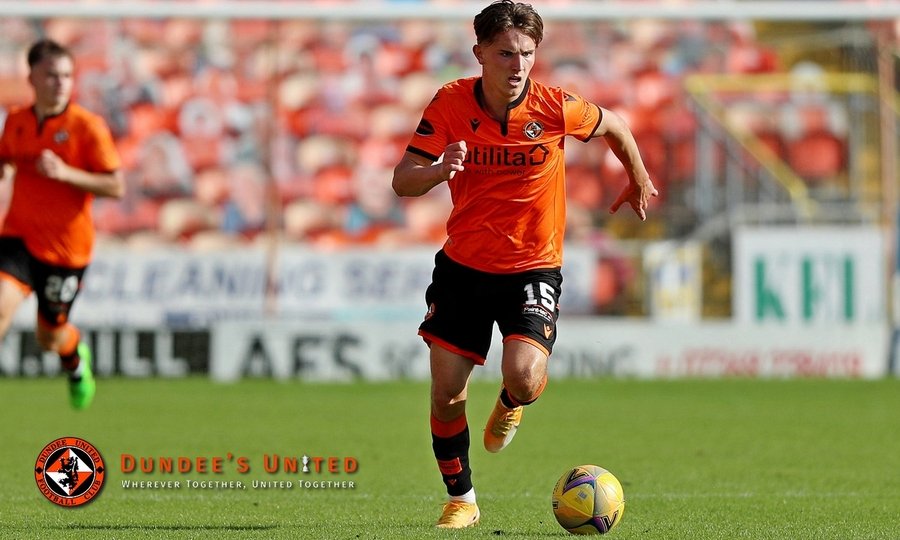 Published: 25th May 2021
Dundee United is delighted to confirm that after another successful season for many of our young players, ten of them have been rewarded with international recognition.
Academy graduates and current first team players Logan Chalmers, Lewis Neilson, Chris Mochrie and Kai Fotheringham have been called-up at Under-21 and Under-19 level, while Nairn Lowe, Keir Bertie, Sam Harding, Alan Domeracki and Rory MacLeod have been included in the Under-16s. Others were unlucky to miss out on the 16s training camp due to injury.
Chalmers, who was recently named Dundee United's Young Player of the Year, has once again been named in the Scotland Under-21 squad for the upcoming doubleheader against Nothern Ireland. Chalmers made his Under-21 debut back in October when he came off the bench in a 7-0 thrashing of San Marino and he'll look to add to those caps at the end of the month. Former Tannadice graduate Scott Banks is also in the squad for the closed-door friendlies that will take place on May 29th and June 5th.
Neilson, Mochrie and Fotheringham have all been included in the Scotland Under-19 Training Camp which will be held at the SportScotland Sports Centre in Inverclyde from May 31st to June 2nd. After both making their first-team debuts this season, Neilson and Fotheringham would join Falkirk on loan after the restart of the lower leagues. The pair enjoyed valuable game time with Kai also scoring his first professional goal. Meanwhile, Mochrie spent the season on loan at Montrose in which he helped The Gable Endies to a play-off spot.
Lowe, Bertie, Harding, Domeracki and MacLeod will all take part in the Under-16s Training Camp at Cormack Park in Aberdeen on June 1st. After the most challenging year of their development so far, this inclusion is a fine reward for their hard work and dedication to United and themselves.
We still await confirmation of the Dundee United players who will be involved in the Under-17s.
Academy Director Andy Goldie said: "We are very proud of what the boys have achieved this season in the most extraordinary circumstances and delighted to see them be rewarded for their continued progress.
"As much as it is always fantastic to be recognised by your country, it's important that the boys grab the opportunity for continued involvement and success.
"To have ten graduates and current players involved and the 2005s to be announced, it's great credit to the fantastic work going on by Our Academy coaches, support staff, parents and, most importantly, the boys themselves however they have to grab the opportunities presented to them."