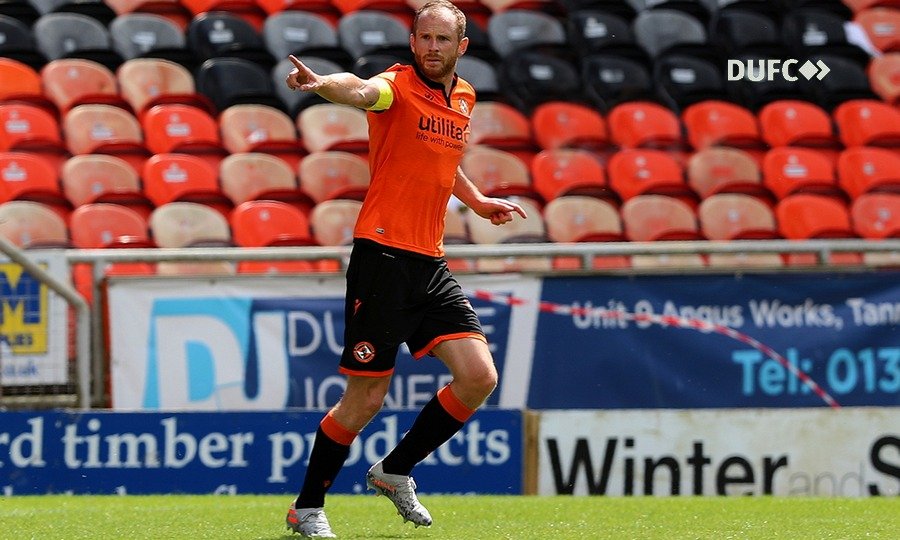 Published: 12th June 2021
While Mark Reynolds' immediate thoughts might be how he'll be keeping his two young boys entertained over the summer, he's equally looking forward to starting life under a new gaffer.
It was announced at the beginning of the week that Tam Courts would be stepping up to Head Coach and the experienced defender revealed that the whole squad was excited by the news.
The skipper is currently enjoying some time off with his family ahead of returning to the High-Performance Centre at St Andrew's for pre-season training next week.
Speaking exclusively to the official Dundee United website, Reynolds said: "The boys were delighted to hear Tam had got the job, he's someone we know and we've worked with. We had that unique situation with COVID last season when he took the team which was a good insight into him and we all got a good feeling towards him.
"The gaffer knows what he's about. He's someone I'd previously thought he would be good to work under and see in that setting and now we're going to get that chance.
"His football philosophy and the way he wants to go about things is something we can all get on board with. We're all delighted he got the job and can now go prove himself and help better this club.
"Dundee United is a club trying to build something and wanted to recruit someone who was going to bring all the different factors we've got at the Club together and have us all pulling in the same direction.
"We just hope we can go and get a good pre-season behind us to allow us to start positively on the front foot and build some early momentum which is massively important when someone new takes over."
Our return to the Premiership was a season of highs and lows. Being so far clear of the drop zone was a significant achievement for a group of players still cutting their teeth in the top flight, while finishing a point outside the top six proves the fine margins the league brings.
It also sets a benchmark for next season and with a full campaign under the belt for the players who were experiencing the Premiership for the first time, can allow us to set our sights even higher.
"There's no doubt the league is going to be stronger this year but I think we're also in a much stronger position as a club and as a team," said the skipper. "The biggest thing last season was some people looked at us as a Championship squad with Championship players.
"We've now dispelled that and have proven that we've got Premiership players and we belong in the top flight - we just missed out on a top six spot by a point. With a bit of luck or another result, we'd have got there so we feel solid as a squad, we feel as though we've got a good group of players.
"We've now got an extra year behind us at the top level and now have 30/40 games under our belts in the Premiership. We've got a new head coach who has a direction he wants to take us, who will give us a new identity and style of play that, hopefully, the fans can enjoy and we can all do that little bit extra to get into the top six."
One of the significant highlights of last season was the emergence of young talent from Our Academy. Eleven academy graduates featured in the first team throughout the campaign, with six making their debut.
It's something everyone at Dundee United would like to build on next season and the skipper believes they have the potential to become key members of the team in the 2021/22 season.
"The biggest benefit of last season was those last four league games were free hits. We knew we were safe and as a club look forward and give young players some valuable experience," said Reynolds.
"Kerr Smith and Archie Meekison got to play back-to-back games in the Premiership for the first time and that will stand them in great stead for the physical and mental demands that brings.
"Everyone would agree the young players put in performances worthy of being involved if needed in a game. Kerr's a 16-year-old centre half but plays as though he's been playing the game for ten years at that level.
"You've got Archie and Kai Fotheringham, two guys who are different to what we've got and what we need in terms of being able to come on and win a game for you. They can produce a killer pass, they can beat a man and make things happen. They've put themselves in a much stronger position to be involved and become key members of the squad."
And like the rest of the nation, Reynolds is caught up in the buzz ahead of Scotland's return to an international tournament with Monday's opener against the Czech Republic getting closer by the minute.
"I'll be watching in the house by myself unfortunately due to COVID but I'm just happy we've got a national team in a major finals. It gives us something to cheer for and gives us that hope that we maybe could go and do something. With the squad, we've got there's no reason why we can't.
"We've got enough to qualify out the group - that's my bold prediction. How we manage to do that I don't know but I can definitely see us making the knockout stages."
Tam's first interview as Dundee United Head Coach is available free-to-view now on both YouTube and DUTV.