Published: 4th August 2022
Dundee United vs AZ Alkmaar
UEFA Europa Conference League - Third Qualifying Round
8pm Thursday 4th August 2022
Tannadice Park
DUNDEE UNITED ARE BACK ON THE EUROPEAN STAGE FOR THE FIRST TIME IN TEN YEARS
We welcome Eredivisie side AZ Alkmaar to Tannadice as we go head-to-head for a place in the UEFA Conference League play-off.
Below is the key information for supporters:
AZ ALKMAAR
AZ qualified for the UECL through a fifth-placed league finish, overcoming Vitesse to secure their spot in the second qualifying round.
Their tie against United was set up after defeating Tuzla City 5-0 on aggregate.
The Dutch side reached the last-16 stage in last season's competition, eventually being defeated by Bodo/Glimt.
TANNADICE PARK
Please be advised that Tannadice Park is now a cashless stadium.
Cash will be accepted outside the ground for programme and Elite Matchday 50/50 draw purchases.
We have also announced our new public catering offering has moved back in-house for the 2022/23 season.
50/50 DRAW DONATION AND TICKETS
50/50 draw tickets are back for the 2022/23 season and we are delighted to announce that we are the first club in Scotland to provide a card payment option via our link up with myPOS.com for this service.
Supporters can make donations and secure their tickets (£2 donation per ticket) within the upper and lower concourses of the George Fox and Eddie Thomson stands as well as outside the ground at several locations.
All proceeds will go towards the continued development of our Academy.
HEGARTY SUITE
The Hegarty Suite will be open from 5pm to both sets of fans before the match on a first-come, first-served basis.
Please note - the suite will not be open after the match.
SUPPORTER INFORMATION
UEFA have outlined that strictly no pyro is permitted inside the stadium. This may result in the club being fined by the governing body or possible supporter arrest and/ or lifetime bans.
We would also like to remind supporters that intrusion onto the playing surface is a criminal offence - and may result in severe sanctions to both the club and individual.
The display team have organised an incredible welcome for our players as they take to the pitch this evening. We encourage all supporters to arrive at the stadium within plenty of time before kick-off.
Tickets
Tickets for the match are now completely sold out.
PPV
Pay-per-view for this fixture is available for just £12.50
International subscribers can watch the match for free on DUTV.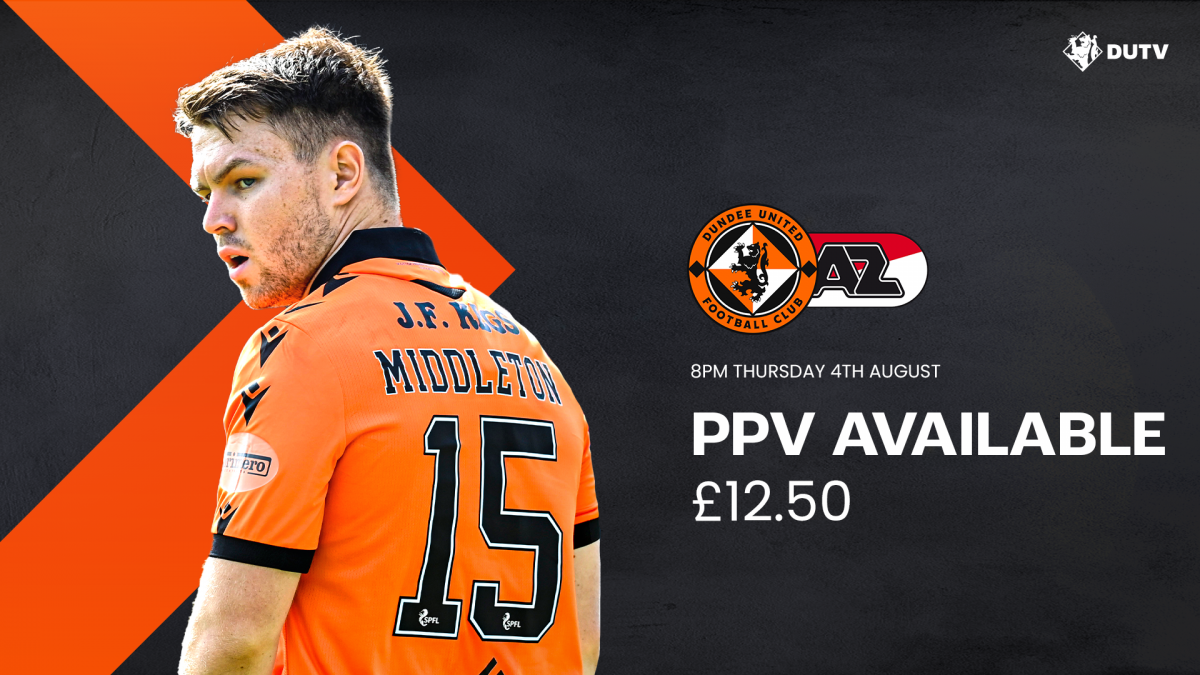 We hope all supporters enjoy what is sure to be a memorable night at Tannadice and united we can make this a night to be proud of.
#UnitedInPursuit