The first full season of the new millennium saw the end of Sturrock's United managerial career just as the league campaign got under way and Alex Smith took over. It was a difficult season and United just survived by winning the last four matches. The one that mattered was at St Johnstone, where United came back from a two-goal deficit to win 3-2 with a late Derek Lilley goal.
2001-02 was a much better term with a seventh place finish but by then it was obvious that circumstances were very different and the other Scottish top-flight clubs were all capable of achieving results against each other. Changes in the rules governing transfer dealings also made life much more difficult for every club with the exception of the Old Firm.
The next season brought Boardroom change with Eddie Thompson gaining the majority shareholding in the Club. The new Chairman lost little time in replacing Alex Smith with Paul Hegarty, but that appointment lasted just three months before Ian McCall came in at the end of January 2003.
McCall achieved his target which was to avoid relegation but only in the second last match of the season with a 1-0 win at Partick Thistle. For 2003-04, the new Manager brought in eleven new players to replace a similar number who had left.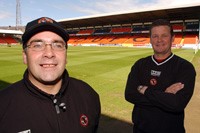 Despite a difficult start to the season, a fifth place finish was achieved. 2004-05 brought more managerial change with Gordon Chisholm being given the job as permanent Manager after a successful spell as caretaker in the wake of McCall's departure.
Chisholm saved the Club from almost certain relegation with a last game of the season win at Inverness Caledonian Thistle. He also led United to the Scottish Cup final where they were unfortunate to lose by a single goal to Celtic.
The cup final appearance took United into the UEFA Cup in 2005-06 but an early exit heralded the end of Chisholm's reign.
Former player and 1994 Scottish Cup final hero, Craig Brewster made an emotional return as Player/Manager in January 2006 but his tenure ended after ten months and just three competitive wins. Brewster was replaced in October 2006 by Craig Levein who turned an ailing 2006-07 season around and although the Club finished in the bottom six, progress was evident.
2007-08 saw Levein combine his role as Manager with the position of Director of Football and a good league campaign was rewarded with a fifth place finish.
United also contested the CIS Insurance Cup final with Rangers, cruelly losing the match after a penalty shoot-out. Shortly after that the East Stand at Tannadice was renamed the Eddie Thompson Stand as a permanent tribute to the Chairman. Sadly, after a long illness, Eddie Thompson passed away in October 2008 and his loss was deeply felt by everyone connected with the Club, and indeed throughout Scottish football.