The 1990s began with another Scottish Cup final. Some observers have labeled the match between United and Motherwell in 1991 as the best ever seen at the national stadium but that was little consolation to United who lost 4-3 after extra time. The decade continued with good league performances and redevelopment work at Tannadice saw the new George Fox Stand opened in 1992. Two years later the East Stand was completed and shortly after that, seats were added in the Shed and the Fair Play Enclosure was converted to make Tannadice an all seater stadium. The cost of all the work was around £7m and was paid for largely through shrewd transfer dealing by the Board, which had included Jim McLean as Chairman since 1989. In 1993, McLean handed over the managerial reigns to Ivan Golac who guided the Club to Scottish Cup victory in May 1994 to complete a full set of domestic honours for Dundee United. However, triumph was followed by disaster as United were relegated a year later.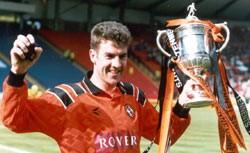 Golac left the Club in March 1995 and he was replaced shortly afterwards by Tannadice old boy Billy Kirkwood who could not save United from the drop. He was then tasked with restoring United to the Premier League. A tough 1995-96 campaign culminated in a two-leg play-off against Partick Thistle for promotion in May 1996. Just 40 seconds remained when United levelled the tie in the second leg, going on to win 3-2 on aggregate.
Having regained their Premier League status, a poor start to the 1996-97 resulted in Kirkwood being replaced by Tommy McLean. At the time, United were languishing in second bottom place but the new Manager made some astute moves in the transfer market, acquiring in a clutch of Scandinavian players and that brought about a remarkable transformation as the Club climbed the league to finish in third place and book a return to Europe.
1997-98 started well and United reached the final of the League Cup in November 1997, but a disappointing display saw Celtic emerge 3-0 winners.
That marked a turning point in the season and United gradually fell down the table, with the threat of relegation ever-present until the penultimate game of the season resulted in a win at Hibs. A poor start to the next campaign brought the resignation of Tommy McLean, and former playing legend Paul Sturrock was immediately appointed in his place. The new Manager found the going tough in his first season, finishing second bottom.
The new millennium dawned with United in a good position half way through 1999-2000 but results in the second half of the season were below expectation and United finished in eighth place.