Published: 16th May 2021
United saw out the 2020/2021 season with a scoreless draw away in Paisley.
The final game of the COVID season saw both United and Paisley's St Mirren come into the game comfortably safe from the relegation places. Micky Mellon used the chance to give the youngsters who shone against Motherwell in the midweek a further chance to get first team minutes under their belts. Our Academy Graduates Kerr Smith and Archie Meekison gained their second starts, and were joined by fellow graduates Logan Chalmers, Louis Appéré and the time-served first-teamer Jamie Robson.
A further two graduates from Our Academy, Jake Davidson and Darren Watson began the game on the bench, doubtless eager to taste first-team action.
The game was played at an enjoyable tempo in the early summer sun, with the young talents clipping the ball neatly between themselves, developing links with the first team stalwarts around them in midfielders Harkes and Fuchs.
United looked a more balanced side than they have at points this season, with Logan Chalmers providing width and trickery on the right and Young Airch Meekison being a creator in the midfield.
The first half passed without huge incident. United's best chance fell to captain of the day Shankland. Chalmers popped up on the left, playing in his fellow Our Academy Graduate Robson to cross to Shankland. The striker got a sweet connection on his header, but directed it straight into the arms of goalie Alnwick.
Edwards offered an aerial threat from set pieces – being ably delivered by Our Academy's Chalmers – nodding wide from a corner and pressuring Alnwick at points.
St Mirren's on loan striker Eamon Brophy had two cracks at goal on the 26th and 43rd minutes, with Doohan smothering the first and the second going wide.
Half time didn't overhaul either team's approach to the game.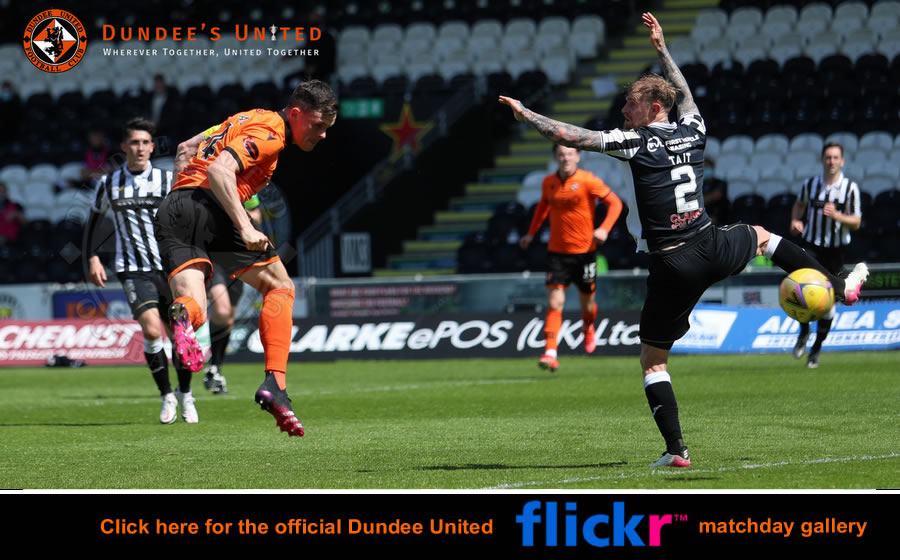 Meekison was again given plenty of minutes before he and Chalmers were subbed off for fresher legs, with young prospect Flo Hoti coming on for Meekison and Spörle on for Chalmers. McNulty also came on for Harkes, the American having made numerous slick contributions in his time on the park.
From 50 minutes, St Mirren showed a period of extended pressure, dictating the next quarter of the game. They couldn't fashion a quality chance, but the pressure resulted in United going down to 10 men. Our Academy Graduate Jamie Robson took a ball under pressure. A poor first touch lost him possession, and in his efforts to reclaim the ball he fouled his opponent. The referee deemed it a straight red, ending the full back's season 20 minutes early.
Ten man United fought their way back into the game, and created two great chances.
McNulty on 79 minutes showed a lovely piece of skill, taking in then hooking on a ball from his own half to loose a charging Shörle. The Argentine sprinting forty yards to get a one on one with Alnwick, who saved and knocked the ball behind for a corner. With less than ten minutes to play, three United men were in the opposing box lining up a shot. It fell again to Spörle, who saw his shot blocked.
The game played itself out in the sun, ending a goaless draw.
UNITED: Doohan, L Smith, K Smith (AG), Edwards, Robson (AG), Harkes, Meekison (AG), Fuchs, Chalmers (AG), Shankland (c), Appéré (AG) SUBS: Reynolds, McNulty, Spörle, Clark, Hoti, Butcher, Mehmet, Davidson (AG), Watson (AG)
ST MIRREN: Alnick, Fraser, Tait, McCarthy, Connolly, Flynn, Erahon, Henderson, McGrath, Erwin, Brophy. SUBS: Obika, McAllister, MacPherson, Finlayson, Reid, Dennis, Lyness, Quaner